Runnels County football teams sweep week 9
It was a good night for all three teams in Runnels County as Winters, Ballinger and Miles all brought home wins from their district road games.
Ballinger doubles down at quarterback
The Ballinger Bearcats (8-1, 3-0), soundly defeated the (5-3, 0-3) Ingram Moore Warriors, 47-5, on Friday. The Warriors started the season 5-0, but have not found a win since district play started 3 weeks ago.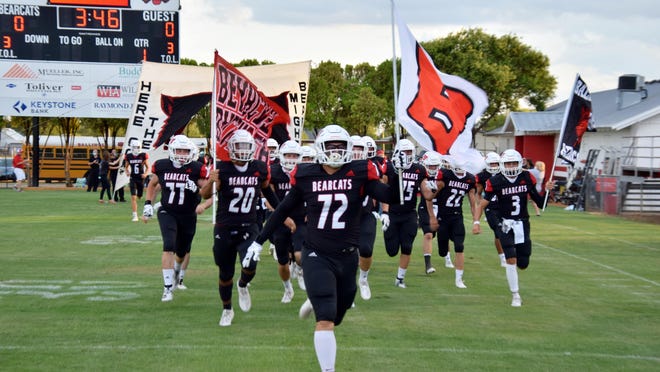 The Bearcats have emerged as a dual-threat team, and not necessarily in way that you would expect. Senior Tyler Vaughn started the season at quarterback but went down with a shoulder injury in the first game of the season. Junior Carter Arrott stepped in and took over the helm of the Bearcats offense, leading them to 7 wins. Many expected Ballinger to face challenges with a new signal caller, but Arrott has answered the bell and proven that he's a capable quarterback. Vaughn and Arrott have different strengths that head football coach Chuck Lipsey used to get the victory over Ingram Moore.
Vaughn is 6'2", 215-pounds. Arrott is 5'8" and 185-pounds. Vaughn and Arrott both have strong arms, but Vaughn takes the edge in arm strength, especially for deep passed down the field. While both players are athletic, Vaughn has quick feet and bursts of speed that surprises defenses when he's running the ball. Since Vaughn's return, he's been used more on defense than offense, with Arrott carrying the load at QB.
Ingram Moore got a healthy dose of both quarterbacks in their loss to Ballinger. Arrott was 6/8 for 109 yards and 2 TDs. Vaughn was 2/5 for 38 yards and 1 touchdown. Arrott had a QB rating of 156.3, while Vaughn had a 106.7 QB rating. Arrott also rushed the ball 4 times for 34 yards. Vaughn added 5 solo tackles on defense.
Couple two effective quarterbacks with a running game headed up by senior running back Garrett Dixon, and a receiving corps led by senior Weston Rollwitz, and it leaves opposing defenses scratching their heads as they try to come up with ways to stop the Bearcats' offensive onslaught. Rollwitz pulled down 2 receptions for 30 yards and 1 TD to go with 19 rushing yards, 15 kick return yards and 21 punt return yards, while also contributing 5 tackles on defense. Dixon ran the ball 17 times for 73 yards and 3 touchdowns. Junior running back Beau Perkins added 9 rushes for 80 yards. Overall, Ballinger averaged 6.3 yards per rush and 18.4 yards per pass.
The Bearcats' defense is stout, with heavy hitters on the line in seniors Adam Winn, Aidan Busenlehner, Colton Belk, Matt Foster and junior Nakia Villarreal. They had a total of 14 tackles-for-loss against the Warriors, who weren't able to mount much of a fight against Ballinger. 
Friday the Bearcats will host the (7-0, 3-0) Bangs Dragons. It will be a challenge for both teams as they will battle for 1st place in the district. Bangs has put up 321 points on the season, an average of 45.8 points per game. They've given up 9 points per game, on average. Ballinger has scored and average of 28 points per game and given up an average of 10.2 points per game.
Sonora has a 2-1 district record, so the winner of the Ballinger/Bangs game will be the only undefeated team in the district as they will head into their last game of the season the following week. Bangs will play Brady as Ballinger heads to Sonora to top off their seasons. Unless something surprising happens in that last game of the season, for either team, the Ballinger/Bangs game is the district title game.
Winters knocks down Goldthwaite 
The (2-6, 1-2 ) Winters Blizzards traveled down the road to take on the (2-6, 0-3) Goldthwaite Eagles. When the game clock hit zero, Winters had a 28-13 victory to come home with.
The Blizzards have played one of the toughest schedules in high school football this season. The Blizzards were coming off of a 49-0 shellacking at the hands of the San Saba Armadillos as they looked for redemption in Goldthwaite.
Winters hasn't changed their brand of football, which is pounding the ball on the ground. They have used eight different players to run the ball this season. On Friday, they used seven players to rush the ball, sticking with their game plan.
Quarterback Alex Salas led the team with 15 carries for 141 yards and 2 touchdowns. Salas was followed by Jon Kullen Busher, who ran the ball 13 times for 40 yards and 1 touchdown. Other players who ran the ball were Dayvin Oats, Malakye Kelly, Aidan Leamon, Maddox Rodriguez and Houston Esquivel. Overall, the team rushed for 219 yards.
The Blizzards' passing game saw Salas go 0-1 on passing, while Busher threw 6 passes, completing 4 of those passes for 76 yards.
Friday the Blizzards have another road game, this time against the (1-7, 0-3) De Leon Bearcats. De Leon has given up the most points in the district this season at 278 points, overall. They have only managed to score an average of 9 points per game.
Miles Bulldogs take sting out of Menard Yellowjackets
The (3-5, 1-2) Miles Bulldogs traveled to (0-8, 0-3) Menard and defeated the Yellowjackets, 57-20, on their home field.
The Bulldogs scored first, and they scored often. In the 1st quarter they put up 2 touchdowns. In the 2nd quarter they scored 4 more touchdowns. They scored 2 more touchdowns in the 3rd quarter, bringing their point total to 57. Menard scored 2 touchdowns in the 1st quarter and 1 more in the 4th quarter.
Kolt Walz caught a 35-yard pass for the first score of the game. Carson Ellison kicked the extra point. Almost 3 minutes later, senior running back Brayden Dunlap scored on a 17-yard run. In the 2nd quarter, Ellison added a 17-yard run and touchdown of his own. Dylan Garza scored on a 30 yard touchdown run in the 2nd quarter as the game quickly got away from Menard. On Menard's next possession, Dunlap intercepted a pass and returned it for a touchdown.
Dunlap wasn't through the for the night. In the 3rd quarter he added a 25 yard touchdown run. Tanner Wood added an 18-yard run and touchdown to cap off the scoring for the night.
Overall, Miles put up 399 yards of total offense. Of that total, 326 yards was rushing on 40 attempts. The Bulldogs defense held Menard to just 158 yards of total offense.
Dunlap led the Bulldogs with 17 carries for 132 yards and 2 touchdowns. Garza carried the ball 6 times for 94 yards and 1 touchdown. Wood rushed twice for 18 yards and 1 touchdown. Ellison had 1 rush for 17 yards and 1 touchdown.
Friday the Bulldogs will travel to (5-2, 1-2) Rocksprings to take on the Angoras. Rockspings is coming off of a 24-6 win over Junction.